LIVE Real Estate Agent Mastermind Strategy Class!
Do the OPPOSITE: Everything You've Been Told About Social Media is DEAD WRONG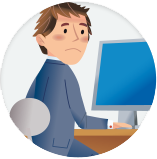 Social media can be overwhelming and sometimes cumbersome to figure out. What should you post? What shouldn't you post? When is the best time to post? And so on. Join us for the next Agent Mastermind class on Tuesday, September 16th, and learn from special guest Realtor Shaun Nilsson, as he explains why everything you've been told about social media is DEAD WRONG.
In this awesome online workshop, we'll show you exactly how and why you should do the OPPOSITE of everything you've ever been told for marketing your real estate business on Facebook. PLUS you'll learn how to outsource your online marketing to others and avoid wasting your valuable time each day!
On this upcoming class, you'll also discover WHY:
You SHOULD post listings.
You SHOULD automate or outsource.
You SHOULD use your personal page.
You SHOULD forget about LinkedIn.
You SHOULD never blog.
You SHOULD market to your friends.
You SHOULD completely forget about talking about you.
Reserve a space NOW for Tuesday's totally free information session, and start doing way more business through your social media. We look forward to seeing you then!
Dedicated to your success,
Christian Penner
Remember if you missed any of the past classes reply
to this email or call me at 561-373-0987

 Don't keep me a secret when
it comes to your buyers
looking to buy a home and
get Mortgage Approved!
Apply Right Now Click Here



 How to Build Your Own Flower  Pot to Market to Expireds and  FSBOs

---
Questions, Comments or For more information you can email Christian Penner at TheMortgageTeam@ChristianPenner.com or visit us online at www.ChristianPenner.com or you can call us directly at: 561-316-6800
---
Or You can click "Call Me" below to call Christian Penner directly using Google Voice
---
#ChristianPenner, #MortgageBrokerWestPalmBeach talks about #RealEstateWestPalmBeach. He also serves other Local Areas and provides home #MortgageSolutionsforPalmBeachGardens, #Jupiter, #BocaRaton, #Wellington and #Tequesta. #ChristianPennerMortgageBrokerJupiter has the #lowestmortgagerates and the best #homemortgage programs like; #Jumboloans, #FHAHomeLoans, #VAHomeLoans, #ReverseMortgageHomeLoans, #FreddieMacHomeLoans, #FannieMaeHomeLoans and #HARPMortgageLoans. #ChristianPennerMortgageBrokerPalmBeachGardens has Served the area for over 15 years with his #HomeLoanLending Needs and Works with #FEMBIMortgageinJupiter.

You Can Also Find Him On
Facebook at: http://Facebook.com/YourMortgageBanker
– – –
Christian Penner
South Flagler Drive, Suite 800, West Tower
West Palm Beach
,
FL
33401
Phone: +1 (561) 316-6800

– – –
ChristianPenner.com
https://christianpenner.com/agent-mastermind-opposite-everything-youve-told-social-media-dead-wrong/
Agent Mastermind: Do the OPPOSITE: Everything You've Been Told About Social Media is DEAD WRONG
#ChristianPenner #MortgageBanker #mortgage #mortgagerates #mortgageloans #getpreapproved #westpalmbeach #wellington #westpalmbeachmortgagebroker #wellingtonmortgagebroker #loans #preapproval #westpalmbeachloans #palmbeachloans #browardloans #getamortgageloan #mortgagelender #mortgagelenders #browardcounty #palmbeachcounty #dadecounty #florida #realestate #westpalmbeachrealestate #wellingtonflorida #wellingtonfl #realestate Christian Penner #ChristianPenner Christian Penner Home Loan Company #ChristianPennerHomeLoanCompany Current Mortgage Rates #CurrentMortgageRates FHA loan #FHAloan FHA loans #FHAloans FHA Mortgage Financing Specialist #FHAMortgageFinancingSpecialist FHA Mortgage Lenders #FHAMortgageLenders FHA VA Financing Specialist #FHAVAFinancingSpecialist Harp Refinance #HarpRefinance Home Finance Mortgage #HomeFinanceMortgage Home Loan #HomeLoan Home Loan Company #HomeLoanCompany Home Mortgage #HomeMortgage Home Mortgage New #HomeMortgageNew Lenders Mortgage #LendersMortgage Mortgage #Mortgage Mortgage Banker #MortgageBanker Mortgage Banker West Palm Beach #MortgageBankerWestPalmBeach Mortgage Broker #MortgageBroker Mortgage Broker Florida #MortgageBrokerFlorida Mortgage Broker West Palm Beach #MortgageBrokerWestPalmBeach Mortgage Broker West Palm Beach #MortgageBrokerWestPalmBeach Mortgage Brokers #MortgageBrokers Mortgage Brokers West Palm Beach #MortgageBrokersWestPalmBeach Mortgage Companies #MortgageCompanies Mortgage Company #MortgageCompany Mortgage Lender West Palm Beach #MortgageLenderWestPalmBeach Mortgage Lender West Palm Beach #MortgageLenderWestPalmBeach Mortgage Lenders #MortgageLenders Mortgage Loan Lender #MortgageLoanLender Mortgage Loan Lenders #MortgageLoanLenders Mortgage Loans #MortgageLoans Mortgage Rate #MortgageRate Mortgage West #MortgageWest Palm Beach Mortgage Broker #PalmBeachMortgageBroker Palm Beach Mortgage Broker #PalmBeachMortgageBroker Palm Beach Mortgage Company #PalmBeachMortgageCompany Real Estate #RealEstate Real Estate #RealEstate Real Estate Home #RealEstateHome Real Estate Home #RealEstateHome Real Estate West Palm Beach #RealEstateWestPalmBeach Realtor #Realtor Realtor West Palm Beach #RealtorWestPalmBeach Refinance #Refinance Refinance A Mortgage #RefinanceAMortgage Refinance Home Loans #RefinanceHomeLoans Refinance Mortgage Lenders #RefinanceMortgageLenders VA Financing Specialist #VAFinancingSpecialist VA Home Loan Expert #VAHomeLoanExpert VA Home Loans #VAHomeLoans Agent Mastermind #AgentMastermind